In light of several of my customers having fell for this type of scam recently, I thought it would be helpful for me to post this reminder with some helpful info to not get tricked into believing these scams.
Some scammers call and claim to be computer techs associated with well-known companies like Microsoft or Apple. Other scammers send pop-up messages that warn about computer problems. They say they've detected viruses or other malware on your computer. They claim to be "tech support" and will ask you to give them remote access to your computer.
Click the image below for a good info graphic about tech support scams.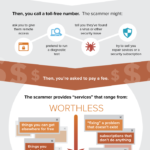 https://en.wikipedia.org/w/index.php?title=Technical_support_scam&oldid=818498542